Taintedweald
The apogee of men came and they pumped their chests with arrogance.
The highly refined civilization able to manipulate even life itself burned in the blazing radioactive flames in a few hours.
A thousand years have passed and all they have left behind them are their vestiges and Taintedweald, a mutant and poisonous forest that has been advancing inexorably for centuries, eating cities, villages and farmlands. Anyone who ventures there unprotected is doomed to a horrible death, but the forest is not without remarkable natural treasures and hidden secrets.
Nevertheless, some daredevils live on its borders or within it, ready to exploit its resources and face its dangers.
A mutant and toxic forest swallows settlements and civilizations advancing inexorably
Fabulous cities on the brink of catastrophe
Airships ply the skies to trade or destroy
Vestiges of the Ancients ready to be plundered and exploited
Genetic constructs, automata and mutated humans
Who will dare to venture into the
TAINTEDWEALD
Welcome to Taintedweald, a post-apocalyptic forest-crawl set in a small region of an undefined world.
This mini-setting inspired by the works of Hayao Miyazaki is compatible with Cairn
CC-BY-SA 4.0
2022 by Roberto Bisceglie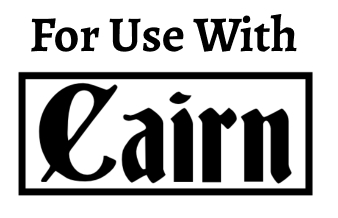 Purchase
In order to download this game you must purchase it at or above the minimum price of $4 USD. You will get access to the following files:
Taintedweald_v1.1.pdf
4 MB
Taintedweald_v1.1_booklet.pdf
5 MB
Exclusive content
Support this game at or above a special price point to receive something exclusive.
Community Copies
You can't or don't want to buy Taintedweald for any reason? Please claim a community copy, no questions asked.
There are plenty of community copies available any time.
If you really like the game, please consider to come back and buy it.
Comments
Log in with itch.io to leave a comment.
I like the way you draw your pointcrawls :)
regional and city map are generated with watabou's tools dungeon levels are drawn in draw.io with the "sketch mode" on